Roasting Schedule
Roasting Schedule
---
This roaster roasts weekly and guarantees freshness up to 4 weeks.
Weekly
Bean Origin
Bean Origin
---
These beans originate from Ethiopia.
Ethiopia
Brewing Recommendation
Brewing Recommendation
---
This roaster recommends that this coffee be brewed for Espresso.
Espresso
About the Roaster
Location
Dubai - United Arab Emirates
Shop Now
Details
---
Ethiopia Ardi G1
Process
Sun-dried Natural
Growing Altitude
1750-1950 MASL
Variety
Sidama Heirloom Typica
Roaster's Flavor Profile
Berries, Orange, Chocolate
Customer Reviews
I recommend this product
Loved the flavor and texture
I use a brewing machine and enjoy the very experience of this flavor notes
07/01/2020
Pete

United Arab Emirates
Citrusy fruity
I usually gravitate towards nutty chocolatey flavors so this was a gamble for me, but three roasters know how to keep a flavor obvious but enjoyable and not overbearing. It made amazed ice cold chilled brews, hot pour overs and filter brews.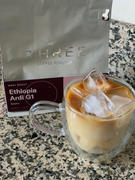 أكثر من 2000 تقييم إيجابي
"مع وجود العديد من خيارات القهوة ، تجعل Beanburds من السهل حقًا معرفة أنواع القهوة التي سأستمتع بها حقًا."
محمد
دبي الامارات العربية المتحدة
"التعرف على القهوة المتخصصة والحصول على آلة إسبرسو يشبه الحصول على مقهى شخصي في المنزل!"
فاطمة
دبي الامارات العربية المتحدة
"أحب دعم الشركات الصغيرة التي تحب ما تفعله حقًا. لقد قدمت Beanburds باستمرار قهوة رائعة ، من أجلي فقط ".
يوحنا
أبو ظبي ، الإمارات العربية المتحدة
لا يوجد مكان آخر يقدم مثل هذه المجموعة المتنوعة من القهوة وتجربة معرفة من أين تأتي القهوة ، وكيفية تحضيرها ، وكيف تحمص المحامص قهوتهم! "
أحمد
دبي الامارات العربية المتحدة
"فريق خدمة العملاء لديهم مذهل! يمكنني أن أطمئن إلى أن القهوة لن تنفد أبدًا! شكرًا لك!"
سمرين
دبي الامارات العربية المتحدة
"واو. أحب اختيار محمصات القهوة. يمكنني تصفحها والحصول عليها دون الحاجة إلى مغادرة منزلي."
مريم
دبي الامارات العربية المتحدة